K.D.PALACE (A NICE GUEST HOUSE)

"The place you never forget"
GALUDIH,JHARKHAND
(NEAR GALUDIH RAILWAY STATION)
PHONE: 98306-74320, 2677-1119, 2677-1117
Visit our new site
www.kdpalace.com

Travel tips, Information, Online booking, Tourist Spots and many more...
Visit today
K.D.PALACE a beautiful guest house situated 227 kms from Kolkata, about 10 Kms from Ghatsila, 35 Kms from Jamshedpur, 5 Minutes walking distance from Bombay Road (National Highway No.33) and 1 Minutes walking distance from Galudih Railway Station. Galudih is a hill station of Chotanagpur in the state of Jharkhand.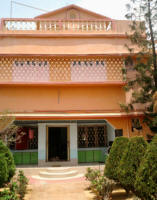 A plenty of land surrounded by high brick wall and a nice Guest House is famous for scenic beauty and vast of sight scene are stated herewith.

Jubilee Park – 35 Kms. Over 225 acres of lush green Parks dotted with flower beds and illuminated fountains, was presented by the Tata Steel Company to the citizens of Jamshedpur in its Golden Jubilee Year. Dimna Lake - 30 Kms. Located at a distance of 13 kms from the city limits, at the foot of the Dalma Hills, its salubrious surroundings are ideal for an outing or a picnic.

Dalma Wildlife Sanctuary -55 Kms. Lurking in the thick cover of its jungles (193 sq.km) are elephants, barking deer, sloth bears, porcupines, leopards, tigers, etc. The steep slopes of Dalma are a trekker's delight.

Chandil Dam and Lake – 65 Kms. Very nice and God's bless, a vast stretch of water with dense forest having facilities of boating.

Bibhuti Bhushan's House - 7 Kms. You will feel sometimes as free like "Apu" from your busy life by visiting the house of Bibhuti Bhushan, the great creator of "PATHER PANCHALI".

Fuldungre Hill - 7 Kms. This Hill carpeted with tall trees and long grasses was the source of inspiration of Bibhuti Bhusan for another best creation of novel "ARYAANAK" where you will find the lucid description of forest and its beauty.



River Subarnarekha Walking distance within five minutes and can have an enjoyment of bath at this undulating river.
Sat Gurum - 13 Kms. This river is coming down from high hills in zigzag way and created seven loops in lush green hills and forest.

Burudi Lake - 14 Kms. Surrounded by the high hills the vast stretch of water with dense forest finds you in an old primitive age.

Jadugora - 24 Kms. Enriched by costly minerals like Uranium, Gold and Copper under chains of mountains where you can offer your best and pray blessing from live deity of Runkini Devi inside the temple situated at the feet of the mountain.

Dharagiri - 19 Kms. Heavenly scenic beauties of forest, hill and water fall which must attack of all the peoples of any age.

C O M M U N I C A T I O N:
1) By Road - 5 hrs. Drive from Kolkata on Bombay Road (NH 6 & NH 33)
2) By Train - Three and half hours journey by Express train from Howrah.
3) By Train - You can also avail local train which to be changed at Kharagpur.

Top